Double Conductive Copper Foil Tape
Product Detail
Product Tags
Item
features and usage
Code
Performance
Backing
Adhesive
foil thickness(mm)
adhesive thickness

(

mm

)

Elongation%
180

°

peel force   N/25mm

Tack Rolling Ball      cm
Service temperature          

°

C

electric resistance
single conductive copper foil tape
the copper foil as the backing material, coated with acrylic pressure-sensitive adhesive.  Applications

:

mainly used for eliminating electro-magnelic interference EML,isolating the harm of the electro-magnetic wave to the human body.It is chiefly applicable for the computer peripheral wire materials,computer display,transformer manufacturers.Double sides conductive type available.

xsd-scpt
copper foil
acrylic
0.018mm-0.075mm
0.03mm-0.04mm
14
18
12
-20~+120
0

Ω

double conductive copper foil tape
xsd-dcpt
copper foil
acrylic
0.018mm-0.075mm
0.03mm-0.04mm
14
18
12
-20~+120
0.04

Ω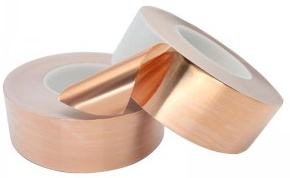 Product Detail:
Insulation, heat insulation, waterproof, good adhesion, can eliminate electromagnetic interference, isolate the harm of electromagnetic waves to the human body, avoid voltage or current to affect the function.
Application :
It is suitable for the production of various machines, wires, jacks and motors, as well as special functions for preventing snails and other pests.
Copper tape refers to a thin strip of copper, often backed with adhesive. Copper tape can be found at most hardware and gardening stores and sometimes electronic stores. Copper tape is used to keep slugs and snailsout of certain areas in gardens, potted plants, and trunks of fruit trees, and other trees and shrubs. It is also used for other applications, such as electromagnetic shielding or low-profile surface mount transmission line in electronics and in the production of tiffany lamps.[citation needed] It comes in two forms; conductive adhesive and non-conductive adhesive (which is more common).
---
Previous:
Die Cut Copper Foil Tape
---
Write your message here and send it to us