PET double sided high temperature resistant tape
Product Detail
Product Tags
Physical Property Parameter

   Item
Features andUsage
Code
Adhesive
Backing
Thickness mm
Tensile strength N/cm
Tack ball  No.#
Holding force  h
180°peel forceN/cm
Double Sided tissue Tape
Bouble sides adhesive, used for stick two things together
xsdds-svt
solvent glue
cotton cloth(tissue)
0.09mm-0.16mm
12
10
≥4
≥4
OPP Double Sided Tape
xsdds-opp
solvent
bopp film
0.09mm-0.10mm
18
20
≥4
≥4
PET Double Sided Tape
xsdds-pe10
solvent
pet film
0.1mm
18
20
≥4
≥4
Application :
PET double sided high temperature resistant tape is widely used in leather,nameplates,stationery,electronics,automotive trim,shoes,paper products,handicrafts and other industries that need to be pasted.
Double-sided tape is made of paper, cloth, plastic film as the substrate, and then the elastomer-type pressure-sensitive adhesive or resin-type pressure-sensitive adhesive is evenly coated on the above substrate. The roll-shaped adhesive tape consists of three parts: substrate, adhesive and release paper (film).
Tape can stick things because it is coated with a layer of adhesive on the surface! The earliest adhesives came from animals and plants. In the nineteenth century, rubber was the main component of adhesives; in modern times, various polymers are widely used. Adhesives can stick to things because the molecules of their own and the molecules of the items to be connected form a bond, and this kind of bond can firmly bind the molecules together.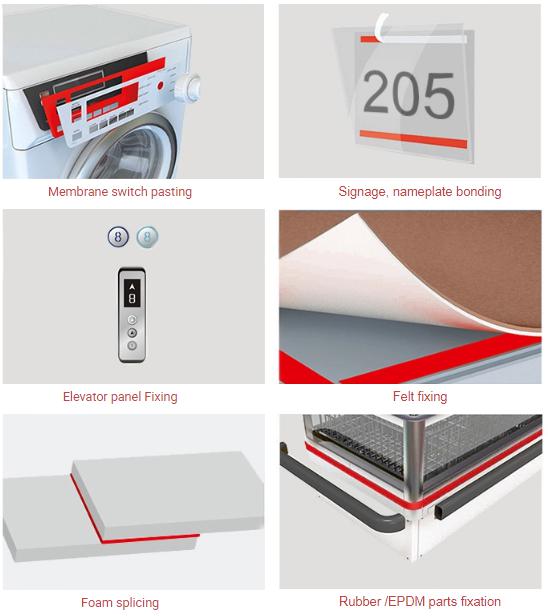 ---
Previous:
Vhb Foam Double Sided Adhesive Tape
Next:
Gaffer Duct Tape
---
Write your message here and send it to us